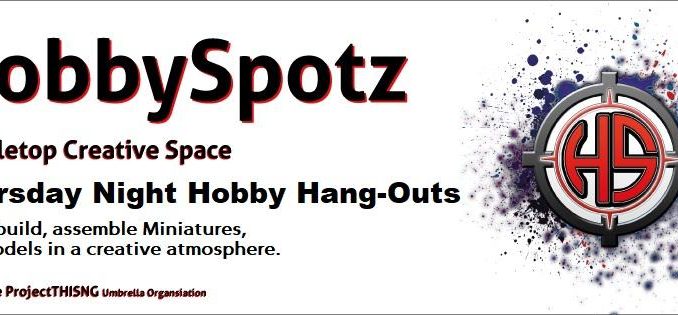 Thursday night Hobby Hangouts, paint, buid, assemble miniatures and models in a creative atmosphere.
Thursday Night Hobby Hangouts
In conjunction with
HobbySpotz
This is a weekly tabletop gaming hobby night
While we are busy making and painting stuff for the club and our many games and activities, there is still much model making work and scenic work to be done but we aim to have fun and learn new skills such as card modelling, painting and scenery work as we go from each other.
where club members can bring their own projects and paints, tools and stock, or make use of ours to engage with those projects that have sat there or need to be finished, or just need to get on but find those side distractions like the TV and other matters in the home draw you away then this is a great opportunity to pop down and enjoy the hobby and social aspect of this space and hobby night.
We cover a full spectrum of modelers, terrain makers, writers, gamers, newbies, and experienced hands, from tabletop gamers and miniature painters to scale modelers and model makers or crafters. We are also people who enjoy what we do and are happy to expand our knowledge base and help others. we enjoy sharing the hobby with fellow modelers.
We meet every Thursday night at the club House (Hobbyspotz Gaming and Tabletop Modular space) part of ProjectTHISNG)We have an active group with a range of modelling experience from beginner to old pros. Everyone is welcome no matter their skill level or modelling preferences. So if you like to talk gaming, modelling and don't mind some light-hearted dark humour then you will fit right in.
The space has access to full facilities and a kitchenette; (Tea and coffee we ask for a donation, or snacks via the tuck shop, or bring your own, phone a take away, etc.) otherwise a free to pop down night. The space has a range of tools, paints and other gaming materials, like brushes, lights, airbrush gear, spray space, modelling tools, tables and large spaces, etc. We also have video equipment is you want to record your projects. The space also includes internet access.
#Nottingham #Nottinghmcreate #Nottinghamgaming #HobbySpotz #ProjectTHISNG #NottinghamBoardandWargameClub #Modelmaking #Scalemodels #terrain #Terrainmaking #Scalemodelmaking #Miniaturepainting #Tabletopgames #Craft #Crafting #Kitbash #Kitbashing #Notts #NG1 #NG2 #Ng3 #Kitbashed #Scratchbuild #Tabletopminiatures #Tabletopgaming #Minis #DIY #Nottscreative #Plasticmodels