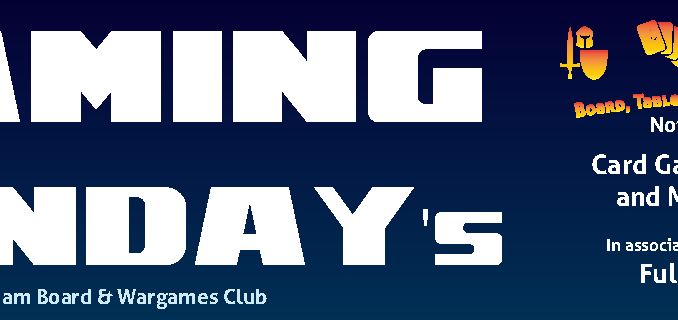 We are very excited to announce that The Nottingham Board and Wargames Club will be teaming up with Ugly Bread Bakery on Market Street, on the Third Sunday of the Month to bring more tabletop gaming to the Centre of , starting with a gaming Mix up session, a sort of free to pop down and game with whatever Board, Card or Skirmish level Games you have for an afternoons gaming.
The first event will be on Sunday 16th September from 12pm till 5pm (12:00-17:00).
Following events if enough interest will be the Third Sunday of the Month.
This will very much be a FREEPLAY, however The NB&WGC reminds you to support the Ugly Bread bakery while you are playing, by making purchases from their amazing food and drinks range.
As a matter of Policy, No outside drinks or food can be consumed on the premises.
Ok we are looking for people who wish to run events/games/demo's an players to join in with them.
So a shout out to those interested to Shout out if you wish to run or play in any of the Games, and what games you plan to bring along. We will look to organise table Space.
The Nottingham Board and Wargames Club are made up of gamers who are passionate about gaming and would welcome everyone who is interested in tabletop gaming or just an old hand to pop down and get involved. Also do check out the NB&WGC Facebook page and chat to us there as well.
#Nottingham
#Notts
#Boardgaming
#Tabletopgames
#Tabletopgaming
#Cardgames
#Wargames
#NG1
#RPG
#Nottsgaming
#Nottinghamboardgames
#Nottinghamevents
#EventsinNotts
#Killteam
#Underworlds
#gw
#mantic
#BGG
#Boardgamesrule
#Shadespire
#RamshackleMinigangs
#Minigangs
#Yugioh
#Nottscardgaming
#AoS
#Boardgamecafe
#xwing
#xwing2
#Notts
#Xwing
#Guildball
#Bloodbowl