Quiet Gaming Sessions
8th March 4pm till 7pm
@UglyBread Bakery
34 Carlton Road
Nottingham.
Notts
Join us for our special Quiet Gaming Sessions – all the same fun of our Tuesday Nights Board Gaming Sessions but with much less hustle and bustle!
Its a quieter spot which provides an atmosphere in which to explore and enjoy board and tabletop, but with an understanding as to the sensitive needs of visitors within autistic spectrum or other communication and sensory conditions. The session takes place usually on a Sunday 4pm till 7pm, during our usual opening hours. Siblings, families, carers and friends are welcome.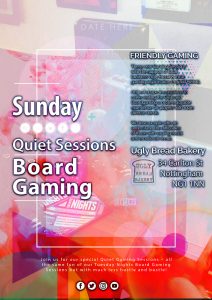 WHAT WILL THE SESSIONS BE LIKE?
They will take place on a Sunday from 4pm till 7pm, when there are not usually many visitors.
We will aim to reduce loud noises and movement in our café and shop area.
We will mute the sounds which can play throughout the shop.
We will place a poster outside to let all visitors know that it's a quieter hour.
We will look to have games that are smoother and friendly for all players to enjoy.
WHAT WE HAVE DONE SO FAR:
We have set up these new Gaming Sessions with the support of local business Ugly Bread and local gaming organisation ProjectTHISNG. They have helped us shape the sessions to help make visiting the Club and Boardgaming a more enjoyable experience for players with more diverse needs.
We have people who do understand the difficulties of those with varying social and emotional needs.
We have created resources to help you prepare for your visit, also available on our Page (Map, access to local transport links):
The Venue provides a great range of food and drink options suitable for almost all dietary requirements, including Vegetarian and Vegan.
The Nottingham Board and Wargames Club does have a range of games and activities you can take part in
PLANS FOR THE FUTURE..
Please do get in touch with us and complete a feed back form after your visit so that we can find out if these sessions cater for your needs and learn what else we could offer in the future. You will find a form here.