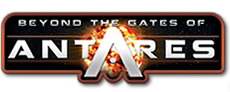 On the 1st July, Warlord Games launched its new expansion Chryseis Shard expansion to the popular Sci-Fi Wargame Gates of Antares by Rick Priestly; and to even more fanfare its first Tournament for the game gathering dozens of players to their HQ in Nottingham.  
To Quote Warlord Games 'This day is going to be packed with activity to take you to the furthest reaches of Antarean space…'
Well, that fell a little short. One day, 20+ tables, 6 demo tables, a few staff and a handful of Gates of Antares Nottingham Club members both gaming and rule assisting. Yet Warlord has come a long way since its inception with an expansion into a physical shop, and company expansion both department wise and gaming lines.
But what of the event, well I arrived an hour later than one wanted but certainly made sure I took full advantage of trying to see everything going on, and while the entry arrangements were a little haphazard with a member of staff sitting by a desk it felt like they were doing that as a curtsy, not as part of an organised event. Still, there were a few things to see so I made my way across to the demo tables, but as they were empty, wandered across to the Sarissa Precision table which hosted some very gorgeous Gar as they fit that style and personality very well.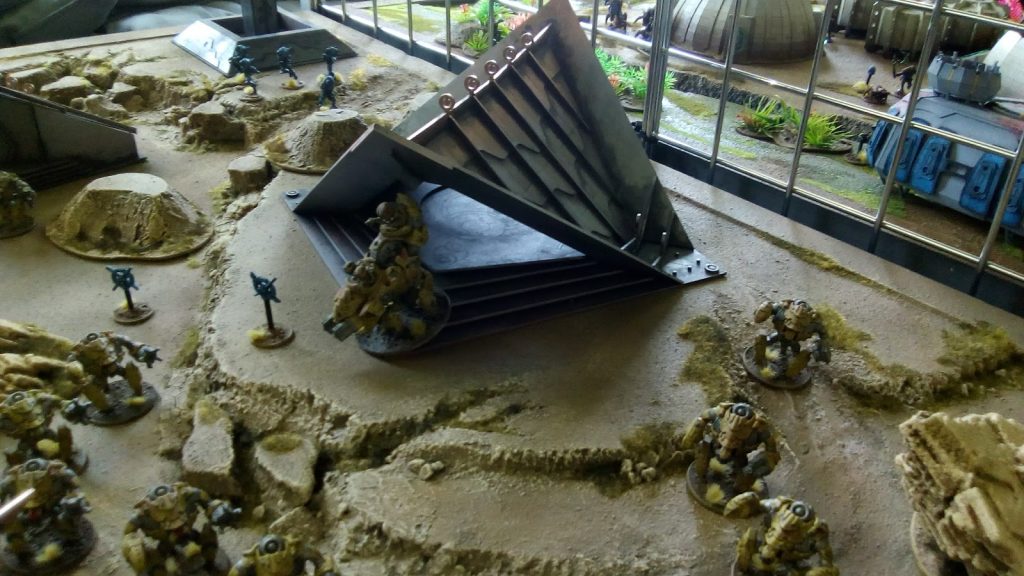 Gar buildings and other new works. It has to be said Sarissa does make and design some very nice buildings, and this table is no exception. what I liked about such buildings was the race specific concepts, more so with the
This neatly leads one to the tourney player tables, and here we saw some interesting takes on army selections and ideas. It also highlighted in some ways the current miniature range and the need to want to expand army ideas as more gamers start to take up the game."Hopefully see new things and an expansion on either the Freeborn Merc units or a fifth faction of nonfiction who anyone can take."
(This review has taken some time to write as while one does not wish to suddenly list all the short comings of the event compared to the highlights it has taken some thinking about. Ed)
 What of the event, well the blurb said:
We'll be having everything we can lay our hands on for Antares from the Warlord Studio, including sculptors and painters to delight you with wonders from across the sphere plus demonstrations of their mighty art!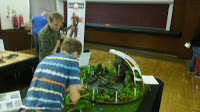 So back to the event, well there was a full 20 player gaming event, a
nd yes it also Featured Demonstration table of someone 3D sculpting a model which was interesting if slightly singular. with a single 3D sculpture and nothing else going on meant it felt a little like a last minute add-on.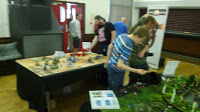 Fancy a bag full of goodies as well as entry to all the gaming madness? Then check out the Skirmish ticket level entry and explore the Antarean landscapes in the event hall here:
 Well if you were a follower of GoA then you will have already grabbed a copy of the Dice game and the miniature so many of us had no reason to take that offer, and as the event was for competitive players then the core purchase audience was never going to be there.
Plus!
New releases – including new Algoryn special units and the new Antares supplement: The Chryseis Shard! (coming soon for Pre-Order)

There were some nice new releases and a shame that stock levels ran out so quickly still shows the new lines are popular. 
Author of Warhammer 40,000 and Beyond the Gates Of Antares: Rick Priestly & 

Tim Bancroft & Andy Hobday will be running Q&A seminars during the day, and are 

here to provide insights into Antares and book signings to boot!

This was interesting and Rick Priestly as ever was both generous with his time and knowledge. The talks were very interesting and informative, giving real insight into the game and core concepts behind the game. One even picked up some info that Rick had been working on a fantasy version of Gates of Antares, and this could prove to be a big hit as GW dropped WHFB in favour of Age of Sigmar, leaving a lot of potential players out there.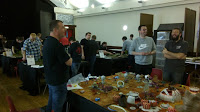 Open Gaming tables – i.e. bring an army and challenge all comers!

This kind of made ones point in regards overall planning with the event and that was it was marketed as a Tournament but serialised as a Warlord Event.  Therefore you got a load of Tourney players who knew the rules but no real pick up players and no spare armies as nothing to grab peoples interest and come down. I felt that this was a waste.
And There'll be More!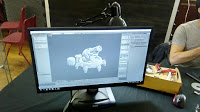 Warlord 3D Staff
We're organizing some great displays along with our friends from Sarissa Precision, The studio team will be demonstrating techniques from hands on sculpting to 3D insights plus painting demonstrations.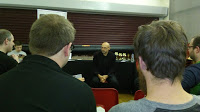 Rick Priestly Giving an engaging talk
Rick Priestley and Tim Bancroft talk Antares, and apart from some very nice new shiny toys, we'll also have the New Beyond The Chryseis Shard, out in stores and here at the event.
the Gates of Antares book:
Set in the Antares Universe, this Tournament saw armies engaging in complex strategies and apocalyptic bad dice rolls as armies clashed as the ever going search for resources and new worlds in the ever expanding Universe as the Antares Gates slowly open up to new secrets. with a focus on (in general) camaraderie and a fun gaming day, the atmosphere was great all day. Epic war tales one is sure will be told on social media by those who gamed for many a day after.
The standard of the armies and tables in the Hall was incredible – The tournament was a fun aspect and good to catch up with club members and those who game from other Cons and Events, the range of armies and army styles meant that it could constantly provide a source of inspiration for future army ideas. It was also interesting with so many beautiful armies that were on displayAnd as the dust settled and the winners were called forth, we started to assess the results. In the list below the results can be seen, or follow the link.
THE RESULTS!
After a brutal tournament, here are the results! For each army, we're going to release the top finishing list so people can learn and study what makes a winning list!
Position
Name
Army
Rnd 1
Rnd 2
Rnd 3
Total
1
Aston Howes
Ghar
20
20
20
60
2
James Bowen
Algoryn
20
20
13
53
3
Jamie Howard
Concord
7
20
20
47
3
Lee Prestidge
Algoryn
7
20
20
47
5
Simone Ristori
Algoryn
13
20
20
53
6
Elliott Ireland
Algoryn
20
20
0
40

Giving out Prizes

http://www.warlordgames.com/antares-day-tournament-round-up-results/


So final thoughts, it was a good day that one feels was let down by a lack of cohesion by Warlord Games as a whole, it felt more like a bit part player with a lack of definition and planning. There were several things that felt like a thrown together event, lack of staff manning door, lack of real advertising, lack of interest about such an event, confusion of buffet and control, and the closing down of the event and secondary use by other bookings. (The last bit not warlord fault..)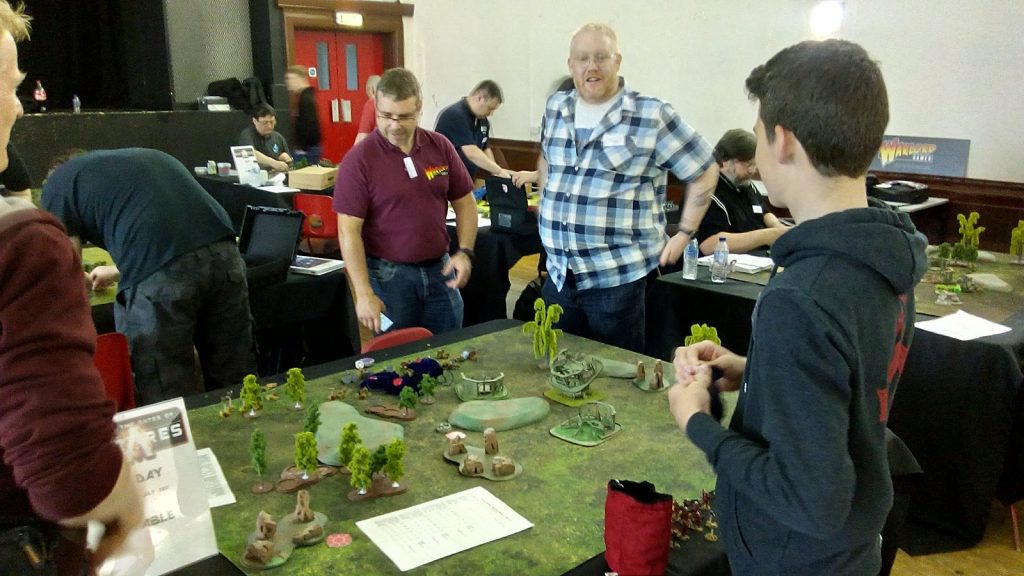 So was it all bad, could it have been a filled event, possibly yes and it does encourage in some way the idea that while Warlord encourages staff to be innovative and take command of events and projects. While a good thing, it felt like it needed an experienced hand over-watching as staff seemed to be short and dealing with managing different aspects. The other short coming came from the lack of organisation with regards a dedicated Social media coordinator, an aspect Warlord do not have and that one feels could have expanded the event to be more inclusive and gathering in a bigger audience, not just those who play, as GoA is an ever expanding game and as such needs more players as it is at its core an excellent game.
So would one completely dismiss the event, no it was fun, had some interesting and fun conversations and gathered interesting news the games proved to be snippets. The event packed quite a bit in and was enjoyable. and as a first GoA Tournament, it was successful in what its aims were, which was to get players competing in games of and help develop the systems and story.
Staff who were present showed interest and knowledge, store staff were personable and again knowledgeable with all of them knowing the subject and guiding people towards armies and army solutions, and offering apologies and thoughts on areas like lack of stock due to pushing ranges were all professional. The tables whereupon which the games were played were also professional and offered variety and different challenges. The partners like Sarissa Precision provided a real feast of new material both for news and table options for the future with myself and others happily drooling over potential future purchases.
The tables run by Primus Shard Nottingham players was also a fun place, and showed comradery and typical laughs and arguments over dice rolls and rule interpretations. The armies on the drop in the table were all excellent and showed again variety and interesting angles from the army builders choices.
The lack of people new to the hobby making use of the 'drop in and play tables' felt a little forlorn and made one did wonder if anyone was running them.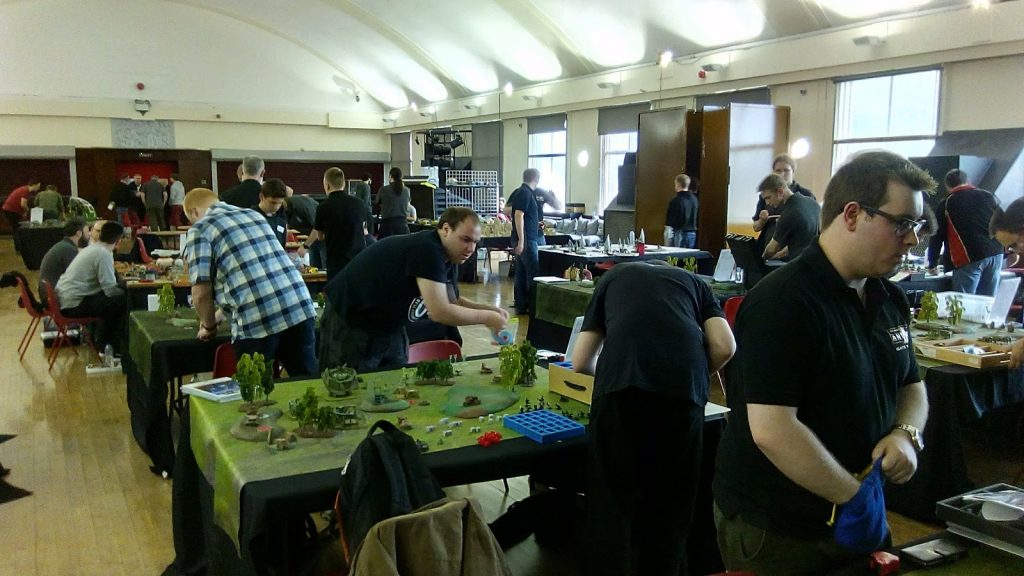 At its core the event was good, and as a first GoA event, enjoyable just felt it lacked something, however that should not and did not stop anyone there from not enjoying themselves, nor did it stop anyone walking away thinking I wish I was playing something else as that would do the whole event a disservice, no it just felt that more interest could have been gathered from new potential players, or those who just were looking for something new and fancied taking a look whether from a new start gamer or old hand and wanting to try something new.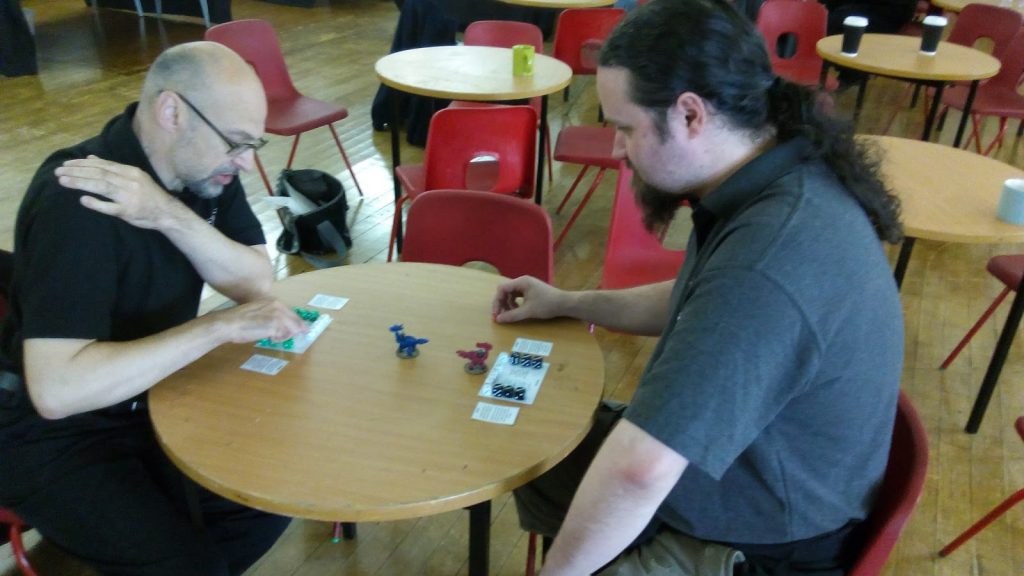 with that, in mind, I do think it will be a case that such an event will in future start to pick up impetus and expand in both scope and range of getting the word out. As this is something of a new expanding area and move for Warlord Games start to look at how they perform such events. They will take from it and we wil  see great things.